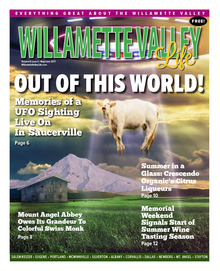 Happy Spring!
The rain has been especially abysmal this year, but think how green the Valley will be this summer? The warm sunny days are coming; hold on!

I have a secret I need to get off my chest – I love stories and movies about UFOs. I blame it on my mother who used to pick up tabloids in the grocery store checkout lines with headlines blaring about UFOs, ghosts and zombies. Imagine my delight after moving to the Valley from Austin, Texas 13 years ago when I found out about the world-famous UFO photographs taken by Paul and Evelyn Trent on their farm just outside McMinnville. Since the annual UFO festival held in McMinnville is coming up in May, it seemed like the perfect time to revisit that famous visit. If you're unfamiliar with that historic event, thank Sarah Horner for the refresher course she written for this issue.

Willamette Valley Life editor Erin Grace has the perfect drink for the upcoming warm summer nights: limoncello promises to be the perfect accompaniment for the end of a warm early summer day. She has also included the go-to guide for beer and wine events in the area this summer.
​
While you're out and about this summer, be sure to take some time to visit the Mount Angel Abbey in Mount Angel, Oregon. Before you go, read the article by Finn J.D. John on page eight about the history behind this amazing place. - Randy Hill, Publisher
In this issue...